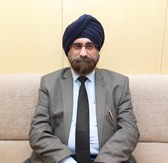 Mr. Inderjeet Singh has been appointed as the Secretary General of General Insurance Council, a body established under Section 64C of the Insurance Act, 1938. Mr. Singh has taken over charge as Secretary General of the General Insurance Council on 2nd May 2023. He replaces Mr M N Sarma whose term got over on 31st January 2023.
Before joining the General Insurance Council, Mr. Singh was General Manager & Director at GIC Re.
 Mr. Singh is a B.Sc. graduate from Lucknow University and has done also MBA from Lucknow University in 1986. He completed his Fellowship from the Insurance Institute of India in 1995.
 Mr Singh joined the general insurance industry in 1986 and with an experience of more than 36 years he has handled almost all areas of non-life insurance. He has worked in operations in various capacities. He possesses experience in overseas operations and was the Managing Director of Kenindia Assurance Co Ltd., Nairobi for a period of three years. As MD of Kenindia Assurance, Mr. Singh also chaired the Board of its subsidiary, Tanzindia Assurance Co Ltd., and was Director on the Board of East Africa Re, Nairobi.
 Mr. Singh's personal areas of interest include playing Badminton and Tennis and travelling.