Chairman's message
Editor's connect
Insurance in news
Insurance Laws & policy
Consumer Awareness
Upcoming Events
FAQ
Global Highlights
Contact Us
Chairman's Message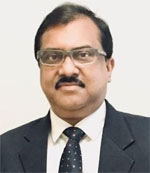 Happy to come back after two months which was filled with festivity and celebrations. I am sure you would have enjoyed reading our newsletter in a new format and I look forward to your feedback and suggestions. Stay in touch and keep pouring us with new ideas and interesting developments in the General Insurance sector.
Happy Deepawali 🪔
Anjan Dey, CMD
The Oriental Insurance Company, New Delhi
Chairman, GI Council
Editor's Connect

Great to be back with all such information, which you might have missed. Our endeavour is to keep you aware about our key activities and share few highlights which took place since we met last. Our Editorial Team has tried its best to make the reading interesting and as you would have desired to be brought to you. Your support will encourage us to make the newsletter a delight.

M N Sarma
Secretary General
General Insurance Council
C.R. Vijayan
Sanjiv Singh
K.N. Venkataraman
Shailendra Sinha
Executive committee Members
Elected Members
Mr Anjan Dey (Chairman)
Mr Devesh Srivastava
Dr S Prakash
Mr Tapan Kumar Singhel
IRDAI Nominated Members
Prof. Bejon Kumar Misra
Dr Nayan Shah
Mr Milind Bhatawadekar
Mrs Asha Nair
Mr K.C. Lokessh
Regular Invitees
Mr M.S. Sreedhar
Mr Krishnan Ramachandran
Mr Hitesh Kotak
Mrs Sucheta Gupta
Mr Vinod Dua

Insurance in news
The Premium 'Score Board' October 2022
The non-life insurance industry comprises of 24 multiline insurers, 5 Stand Alone Health Insurers (SAHI) and two specialised insurers, namely, Agriculture Insurance Co of India Ltd and ECGC Limited, thus totaling up to 31 general insurers. For the period April to September 2022. These companies together have logged an underwriting premium income of about Rs. 1,25,196 crores, showing a growth of around 15.31%.


Marine insurance adapting to a world in transition, says IUMI President
IUMI Chicago the annual conference 18-21 September: Opening this year's IUMI (International Union of Marine Insurance) annual conference in Chicago, President Richard Turner introduced "Adapting to a World in Transition" as this year's conference theme, highlighting the impact of climate, asset, macroeconomic and geopolitical changes on marine insurers, the clients they support and IUMI itself.

Insurance Laws & policies
Seat belt, helmet, traffic rules: Rules of personal accident insurance
Businessman Cyrus Mistry's death in a car crash on September 4 has brought attention to personal accident (PA) insurance. A standalone personal plan covers against the financial impact of an accident. "Personal accident insurance provides coverage against accidents leading to bodily injuries, disability (partial or complete) or accidental death,"

Human Resource Management and Post pandemic work culture : Shailendra Sinha
Every organization, big or small uses a battery of Capital to make the business work. The capital includes cash, valuables, or goods to generate income for the business. Whatever be the business, the one thing in common is the involvement of people who make their capital work. Human Resource Management is the process of following events:

IRDAI fires on all cylinders to deepen insurance penetration
Brace yourself for more tectonic policy shifts and exponential growth in the insurance sector in the next 24 months, as the new IRDAI chief Debasish Panda is a regulator in a hurry. Panda is looking to usher in more reforms, remove barriers to entry, and steadfastly ease the compliance burden to catapult the industry to even greater heights.

Be more consumer-centric: IRDAI to insurers
"High priced products leaving health insurance to be unaffordable to several sections of society: Chairman Debasish Panda" The Insurance Regulatory and Development Authority of India (IRDAI) will recommend to the government that necessary statutory changes should be brought so as to allow health insurance providers to offer value-added services to customers, its Chairman Debasish Panda said on Tuesday(30th Sep).

Consumer Awareness


Frequently Asked Questions
Questions and Answers About Health Insurance
Health insurance plans vary widely, both in cost and in benefits. Before enrolling in a health insurance plan, you should consult the plan brochure and read the policy to get specific information about the benefits and costs and the way the plan works. Read More>>>


Global Highlights
General Insurance Council, 5th Floor, National Insurance Building, 14, Jamshedji Tata Road, Churchgate, Mumbai-400020, Maharashtra, India, gicouncil@gicouncil.in
https://www.gicouncil.in/
Disclaimer : Our newsletter endeavors to compile insurance information from various sources in the public domain. In respect of 3rd party articles/news items etc. reproduced, the GI Council accepts no responsibility for the accuracy/authenticity and completeness nor can be seen as endorsing the views/opinions expressed therein.