Chairman's message
Editor's connect
Insurance in news
Insurance Laws & policy
Consumer Awareness
Upcoming Events
FAQ
Global Highlights
Contact Us
Chairman's Message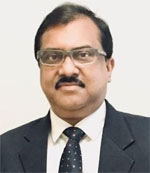 Welcome to the third edition of the newsletter. The regulator led reforms continue in full force and insurance industry is poised for a growth trajectory unseen in the past. The target 2047 for insurance for all is the realizable dream going by the speed of reforms led by the regulator. All regulations are being looked into to make the insurance more accessible to common people and this indeed is a great vision for the Indian non-life Industry. I am sure the industry will rise to the occasion and achieve the targets much before the dateline set for it

Wish you all a very happy 2023
Anjan Dey, CMD
The Oriental Insurance Company, New Delhi
Chairman, GI Council
Editor's Connect

The third edition of the newsletter is before you. The newsletter is a collaborative effort of all non-life industry members to spread its message and keep people informed about new developments. In this edition, we cover the new set of reforms in easing the regulations for unhindered growth of the industry and its reach to common people. We have also covered various topics on health insurance, parametric insurance, international market developments and other current issues to make people aware of changes happening in the non-life insurance industry at a fast speed. Looking forward to your valuable feedback.

Wish you all a merry Christmas & a Happy New Year.

M N Sarma
Secretary General
General Insurance Council
C.R. Vijayan
Sanjiv Singh
K.N. Venkataraman
Sharad Taware

Executive committee Members
Elected Members
Mr Anjan Dey (Chairman)
Mr Devesh Srivastava
Dr S Prakash
Mr Tapan Kumar Singhel
IRDAI Nominated Members
Prof. Bejon Kumar Misra
Dr Nayan Shah
Mr Milind Bhatawadekar
Mrs Asha Nair
Mr K.C. Lokessh
Regular Invitees
Mr M.S. Sreedhar
Mr Krishnan Ramachandran
Mr Hitesh Kotak
Mrs Sucheta Gupta
Mr Vinod Dua

Insurance in news
The Premium 'Score Board'
General insurance is the sunrise industry with a great potential to unleash cover for all, reduce protection gap, offer employment and lot more opportunities to all stakeholders. It is poised for revolutionary and unprecedented progress in the days to come. The recent initiative by IRDAI Bima Sugam is perceived to be a big game changer in the general insurance market development. It is a revolutionary step with ambitions of becoming the largest online market for insurance products and services which has not been practiced anywhere else in the world.


IRDAI's reform agenda continues
Working towards its commitment to enable insurance for all by 2047 where every citizen has an appropriate life health and property insurance cover, and every enterprise is supported by appropriate insurance solution and also to make Indian insurance sector globally attractive IRDAI unleashed a plethora of reforms in its board meeting on 25th November 2022.

Building a strong Health insurance plan:
Mr Tapan Singhel CEO & MD Bajaj Allianz general Insurance Company is one of the prominent thought leaders of the non-life industry. He shares his views on the importance of health insurance for the common people. His article, which is published elsewhere also, explains how we can develop a strong health insurance plan in a systematic and comprehensive way to take care of any health emergency.

Insurance Laws & policies
Transforming Reinsurance Sector in India
Foram Chauhan is Deputy Manager (Legal & Compliance) in Munich Re which is world's leading Reinsurance company having Branch in India. In her article on the proposed draft on Insurance Regulatory and Development Authority of India (Re-insurance) (First Amendment) Regulations, 2022, she explains how these reforms will change the reinsurance landscape in India.

Conference on iRAD & e-DAR
A one-day conference was organized on 21st November 2022 for a briefing on iRAD (Integrated Road Accident Database & e-DAR (Electronic Detailed accident Report) at Insurance Institute of India, Bandra Kurla Complex, Mumbai. 93 Officials of General Insurance Industry & GI Council attended the conference. The Integrated Road Accident Database (iRAD) Project is an initiative of the Ministry of Road Transport and Highways (MoRTH).

Whose insurance is it anyway
Insurance policies are not intended to generate profits. There are insureds who have been seeking cover for envisaged risks with the same insurers for years. In those circumstances, to preclude insurers from relying on exclusion clauses may be a recipe for comfort for insureds, who could simply plead ambiguity and lack of material information and seek the blue pencil test to be applied in a blanket manner. In his incisive article Sumit Lall of CSL Chambers examines latest verdict of the Supreme Court and its potential effects for the stakeholders

Consumer Awareness


Frequently Asked Questions
How to avoid common mistakes while buying Health Insurance policy
Health insurance is becoming indispensable in the current times. Unhealthy lifestyle and food habits has made even our young population susceptible to many health conditions at an early stage in life. To add to that, high medical inflation and increasing frequency of epidemic such as dengue, malaria, typhoid and not to mention Covid-19 has made having health insurance more crucial than ever. So, here is a deep dive to 'zero-in' on the right health plan best suited for you and your family." Read More>>>


Global Highlights
General Insurance Council, 5th Floor, National Insurance Building, 14, Jamshedji Tata Road, Churchgate, Mumbai-400020, Maharashtra, India, gicouncil@gicouncil.in
https://www.gicouncil.in/
Disclaimer : Our newsletter endeavors to compile insurance information from various sources in the public domain. In respect of 3rd party articles/news items etc. reproduced, the GI Council accepts no responsibility for the accuracy/authenticity and completeness nor can be seen as endorsing the views/opinions expressed therein.