Chairman's message
Editor's connect
Insurance in news
Insurance Laws & policy
Consumer Awareness
Upcoming Events
FAQ
Global Highlights
Contact Us
Chairman's Message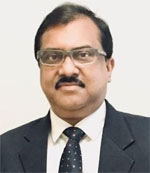 I am happy to launch the newsletter 'GI Newsletter' as a part of our initiative to connect with our stakeholders bi-monthly (once in 2 months) without fail. There couldn't have been a better way to re-launch on the occasion of the 'Aazadi ka Amrit Mahotsav'.

I congratulate the GI Council team on the occasion and wish all Happy Independence Day.
Anjan Dey, CMD
The Oriental Insurance Company, New Delhi
Chairman, GI Council
Editor's Connect

I thank the members of the executive committee of our council for providing the inputs for our new version of the newsletter which we desire to reach to all our stakeholders as a tool for building awareness and further improving in the penetration of the insurance sector in our country. I seek your support and valuable inputs to make it not only popular but useful for the citizens.

Wish all the readers Happy Independence Day!!!

M N Sarma
Secretary General
General Insurance Council
C.R. Vijayan
Sanjiv Singh
K.N. Venkataraman
Executive committee Members
Elected Members
Mr Anjan Dey (Chairman)
Mr Devesh Srivastava
Dr S Prakash
Mr Tapan Kumar Singhel
IRDAI Nominated Members
Prof. Bejon Kumar Misra
Dr Nayan Shah
Mr Milind Bhatawadekar
Mrs Asha Nair
Mr K.C. Lokessh
Regular Invitees
Mr M.S. Sreedhar
Mr Krishnan Ramachandran
Mr Hitesh Kotak
Mrs Sucheta Gupta
Mr Vinod Dua

The combined COVID Claims settlement data of the Non-life insurance and Stand Alone Health Insurance Companies operating in India as at the end of July, 2022
Covid Claim Status
As of 31.07.2022
Number
Amount (in Crores)
Reported Claim
2977650
Rs. 36,885
Settled Claim
2688489
Rs. 24,457
Repudiated Claims
217644
Rs. 1547
Insurance in news
The Premium 'Score Board'
The Non-Life(General) Insurance sector comprises of, as on date, 4 Public Sector, 20 Private Sector Multi-line Insurers, 5 Stand Alone Health Insurance companies and 2 specialized insurance companies viz. AICL and ECGC. They are all direct insurance companies, meaning that they transact insurance directly with the policyholders like you and me.


IRDAI cuts solvency margins for crop insurers
Vacancies for the post of insurance ombudsmen in india gets finalised
Vacancies for the post of insurance ombudsmen in india gets finalised and awaits clearances from the respective Authorities(Central Vigilance Commission, Directorates of Enforcement, Revenue Intelligence and Goods and Servie Tax Intelligence, and the Central Board of Direct Taxes) in terms of Rule 7(B)(5) &7(B)(6) of the Insurance Ombudsman Rules, 2017(as amended til date)

Insurance Laws & policies
No Decision on Mandatory Disclosure of Insurance Policy Commissions: IRDAI
The Insurance Regulatory and Development Authority of India (IRDAI) on Friday said it has not taken any decision on disclosing the commission paid to insurance intermediaries on the policy document. In a statement, IRDAI clarified that it has not taken any decision on this matter. Furthermore, the IRDAI will hold extensive consultations with all stakeholders before any such decision is taken.

IRDAI extends 'Use and File' for insurance products for agriculture and allied activities
July 14, 2022: Indian insurance regulator has extended the ambit of 'Use and File' procedure to products covering agriculture and allied activities, a press release issued by the Insurance Regulatory and Development Authority of India (IRDAI) said on Thursday.

IRDAI to revamp grievance redressal mechanism, plans to call it 'Bima Bharosa'
The Insurance Regulatory and Development Authority of India (Irdai) is all set to revamp the grievance redressal mechanism and call it Bima Bharosa, reported PTI citing sources. The revamp will include an option of filing complaints in regional languages. This can be attributed to making the process of complaint redressal more efficient. The Integrated Grievance Redressal System (IGMS), launched in 2011, is being upgraded to make it more convenient for customers. It is to be renamed as Bima Bharosa.

Consumer Awareness


Frequently Asked Questions
You and Your Health Insurance Policy
The term health insurance is a type of insurance that covers your medical expenses. A health insurance policy is a contract between an insurer and an individual /group in which the insurer agrees to provide specified health insurance cover at a particular "premium" Read More>>>


Global Highlights
General Insurance Council, 5th Floor, National Insurance Building, 14, Jamshedji Tata Road, Churchgate, Mumbai-400020, Maharashtra, India, gicouncil@gicouncil.in
https://www.gicouncil.in/
Disclaimer : Our newsletter endeavors to compile insurance information from various sources in the public domain. In respect of 3rd party articles/news items etc. reproduced, the GI Council accepts no responsibility for the accuracy/authenticity and completeness nor can be seen as endorsing the views/opinions expressed therein.